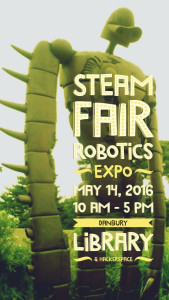 Most people know that STEM stands for science, technology, engineering and math. But what about STEAM? STEAM is what you get when you add art to the mix. And if you add robots in too? Then you have STEAM Fair Robotics Expo – now that's right up my alley.
Danbury Library is having a special STEAM fair in their Hackerspace this May to celebrate individuals in the arts and sciences who focus on robots.The event is being held on May 14th – hope to see you there.
The fair is free and runs from 10 a.m. to 5 p.m. at Hackerspace in the Danbury Library on Main Street.