I am very pleased to announce that I will be the Maker-in-Residence at the Danbury Library for the month of October. The role of the Danbury Library's Maker-in-Residence is to brighten the light on unique creativity and create with the help of community influence. This influence will come from many different people – library patrons, members of the Connecticut Science Center & Danbury Library Teen Innovation Program, staff and community members. Everyone will be involved through active participation in shaping one or more of my creations through an exchange of ideas – that means you too.
Hope you will come out during one of my workshops on 10/22 or 10/29 both get started at noon. Not only will you get to see some of my latest creations, but you'll be learning too. Just imagine the educational aspects to take away like: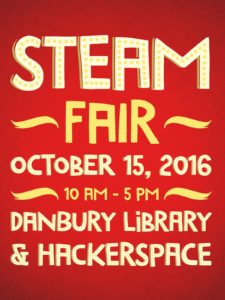 Math – Measuring and layout of parts for cutting, drilling and assembling
Science – Welding of molten metal and bending of heated steel.
Art Literacy – Transforming everyday junk into unique works of art.
See? It's like a robot university! If you come, I will instruct our future overlords to kill you last 🙂
I will also be in attendance for the fall Steam Fair October 15th from 10am-5pm, a fun-filled day of innovation and imagination.