What would you do with a box full of bolts and gears and random pieces of metal?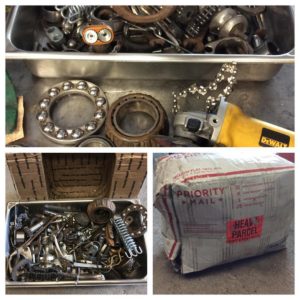 I received a package one afternoon (a very large and heavy package – condolences to the carrier that had to bring that parcel) which asked that very question.
It was story that started on Instagram with a challenge posed by a fellow artist named Bucket of Bolts. Each recipenent would take pieces from the box to create something, then add pieces from their shop before it headed out to the next artist chosen.
It arrived to me from Gunstone Creations and after 4 days of welding, cutting, grinding, drilling, hammering and bolting, it was done…well almost done. There was still a lot of sanding and paint prep to do. I started posting a daily play-by-play of all the fun I was having creating with this new supplies. Finally on day 5, it was complete. Meet Sir Bolts – he is created from about 50% box parts and 50% items I had in/around my shop.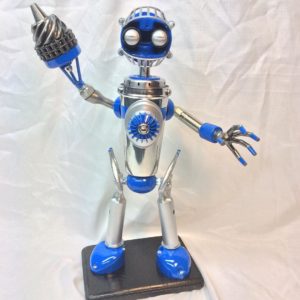 Had an amazing time working on him, decided what pieces to add to the box and then choosing the next person to send it off to.
It went from the East Coast back to the West Coast into the talented hands of Joanie Butler, who created "Star Gazer" with the pieces.
You can follow all the fun by checking in on #boxofartsupplies and what will you create today?